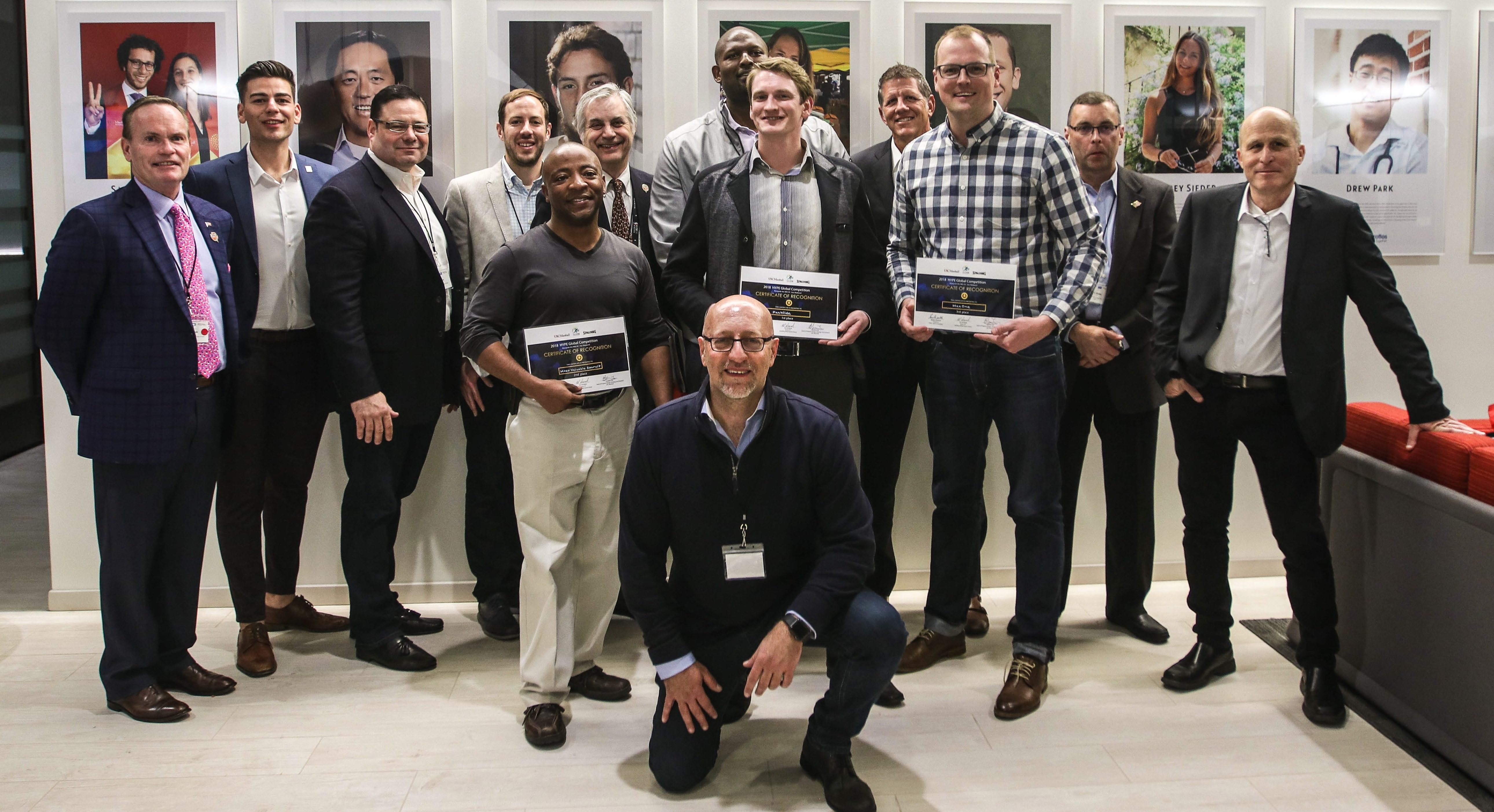 MaxOne Founder and CEO Jason Mejeur stands in the winners circle at the Spalding and HYPE Sports Innovation Global Competition.
MaxOne Takes Home 3rd Place Honors
Last week, MaxOne was selected from a global field of applicants to participate in the Spalding and HYPE Sports Innovation Global Competition. As one of the 10 participants, MaxOne pitched in a live contest at the University of Southern California's Marshall School of Business, that was held parallel to the NBA All-Star Weekend.
The event was put on by HYPE Sports Innovation, who is a growing global eco-system for sports innovation with more than 26,000 key industry members. The event was held in conjunction with Spalding, Silicon Valley Bank and the University of Southern California. Industry luminaries such as John Doleva, President and CEO of the Naismith Memorial Basketball Hall of Fame; Charles Johnson, Global Director of Innovation at PUMA; and many more judged the competition.
Out of 10 qualifying startups, MaxOne took home the Bronze. FanWide, the company committed to helping on-the-go sports fans find a local fan club or game watch party, took first. Second place went to draft prospect computation program, Most Valuable Recruit.
Not only was MaxOne able to showcase their own innovative solutions, but gained valuable insight from networking with the attendance and the competition. The third place award included a membership with the Microsoft Global Sports Innovations Center, which will be a valuable resource moving forward.
The overall experience was rewarding – a great celebration of inventiveness, that we were proud to take part of.
ABOUT HYPE SPORTS INNOVATION
HYPE is the largest sports innovation ecosystem with over 26,000 leaders and key decision makers in the field of sports, including sports and tech global brands, academia, investors and startups. HYPE is the host for global competitions, teaming up with Google, ASICS, Microsoft, SPALDING and Sky Sports among others. In 2017 HYPE conducted several Sports Innovation (SPIN) Final competitions alongside the UEFA Champions League Final, NFL Draft, the 2017 Taipei Summer Universidad and BOSTON. HYPE is the impact division of MG Equity group, operating since 2003, a Member of the IHUB.EU – A European Union organization. For more information visit: www.hype-foundation.org
ABOUT SPALDING
Spalding® is the largest basketball equipment supplier in the world with a long-standing heritage in quality and innovation. They are the official basketball of the National Basketball Association (NBA) and Women's National Basketball Association (WNBA) as well as the official backboard of the NBA and NCAA. Spalding also produces softball equipment under the Dudley® brand. The SPALDING® and DUDLEY® trademarks are owned by Russell Brands, LLC. For more information, visit www.spalding.com.