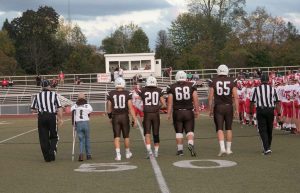 This article was originally posted by Dan Guttenplan with FNF Coaches. If your players aren't willing to buy into your program its unlikely there will be much success. Here are a few ways you can get your players to do so. 
_______________________________________________________________________________________
Player Buy In
In order for a coach to get the most out of his scheme and game plan, his players must buy in to his philosophy.
Coaches often say players won't care how much you know until you show them how much you care. It's impossible for coaches to fake how much they care, and players are constantly sizing up the coaches to make sure their message comes from a genuine place.
A head coach needs to set the tone for the entire program that his football team is a family. Through good times and bad, the coach will support his players and staff and put them in position to succeed.
Earning player trust can be difficult. Some high school student-athletes are lacking in experience when it comes to male mentors, and they might be slow to welcome one into their lives. A strong player-coach relationship can't be forced. Take time to foster trust and compassion because the high school years can be difficult to navigate without encountering a share of adversity.
A coach should have an open-door policy and let his players know they can reach out to him regardless of the circumstance. Keep an open line of communication. Welcome the opportunity for players to share their insecurities and struggles. Coaching is about building relationships – not just wins and losses. Work to build relationships with all players – not just the ones that are making highlights on Friday nights. Here are five tips to help you receive buy-in from your players.
Be Consistent
"I think it's about staying the course and trusting in the process," said Steve Specht, head football coach at St. Xavier High (Ohio). "We always talk about following the blueprint. It's just such a fine line between winning and losing, and you have to get kids to believing and following the blueprint."
Value All Players
"We try to put the kids in the best position, and we try to make sure every kid has a role, whatever that may be," said Josh Niblett, head coach at Hoover High (Ala). "They've got to have a role so they don't get lost in the program."
Communicate Clearly
"It's all communication. If you have good communication, they're going to talk to you at times where they think you're going too far or if they want to be pushed," said Jason Negro, head football coach at St. John Bosco High (Calif.). "Kids want to be driven; they want to be great."
Prioritize Your Message
"You have to be really clinical with the theme you're trying to show whenever you're using video," said Aaron Calvin, Performance Analyst for the Nike Academy. "Because with too much noise, the boys just get confused, and they leave more confused than when they came into the session."
Be Accountable
"I've never coached a team that won at the end that didn't have great leadership, where those guys didn't hold each other accountable," said Gabe Infante, head football coach at St. Joe's Prep (Pa.). "Those guys weren't playing for me. They weren't playing for their school. They were playing for each other."
Additional Resources
Want to learn more about MaxOne? Schedule a free demo HERE! 
Interested in Writing for MaxOne? Email Luke@gomaxone.com to see how you can get started!