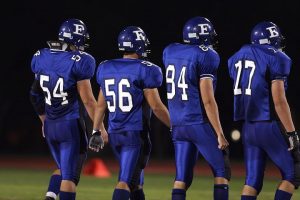 This article was written by Joe Daniel with Joe Daniel Football. With the football season drawing near its important to identify which players will be the team leaders. Here's a few ways to make sure you have the right leaders in place this season. 
__________________________________________________________________________________________
Finding Leaders
Every football coach is looking for leaders. Player leadership is critical for the success of your football team. But how do you find them? How do you know who has the potential to lead your football team?
Some kids are going to have strong personalities. They'll take over the role whether you want them to do it, or not.
Important point here: Leadership means having Influence. It can be good or bad.
Bad leadership is hard to squash. Sometimes all you can do is cut ties.
Good leaders seem to take a lot more cultivating. Good leadership does not take it's followers down the easiest path.
Time to find those good leaders. Then you can start to build their skills. You're going to need this focus, because it's unlikely you'll get 50 kids that are qualified for leadership right now.
How do you find them?
You have to let go. Back off, and start putting kids in situations to take over.
This isn't natural, because football coaches are all about controlling the situation. It's how we manage to have highly productive practices in way less time than we need.
But you need to do it.
We turned the conditioning portion of practice over to our players recently. It's interesting to see who leads it, and what they come up with.
There are basically no instructions given, except that it should only take about 5 minutes.
They run hills, or run gassers, or some other type of conditioning that we've done in the past.
And you find out who has leadership. Who has influence.
It's a good way to start this process. Don't turn over the weight room. It's highly skilled, and potentially dangerous. Plus we're on very specific programming.
With a young football team, we may be another season away from turning over some non-contact football work. There is some with with receivers and Quarterbacks doing extra 7 on 7 work on their own, but I don't know that you learn anything about leadership there. The QB leads it. You'd learn more from who runs the defense.
(there is value here, because you are putting your QB in a leadership role)
Over time, turn some of your light drill work over. Everything should still be supervised. This would be your pre-practice drills, more than anything else.
Find out who your leaders are early on. Then start talking to them.
Don't force anyone into leadership. You can't. I'm not in the leaders are born camp, but I do think you have to want to lead in order to learn to be a leader.
When you establish a few leaders on your team, they'll be examples for future leadership in your program.