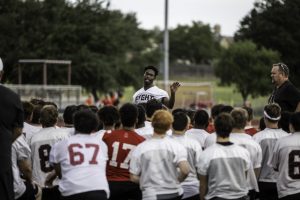 This article was originally written by Dan Guttenplan with FNF Coaches. Leadership and accountability can greatly increase the success of a team. Here are a few ways to create an culture of leadership within your team. 
_________________________________________________________________________________________
A Leadership Culture
Establishing a culture of leadership requires more than just naming captains. A coach can start developing leadership characteristics in his youngest players so that when they're seniors, they're ready to be mentors and role models.
In just his second season as the Christian Brothers Academy (Syracuse, N.Y.) head coach, Casey Brown led his team to the New York State Final Four and a Section III championship in 2016.
Brown is bullish about establishing a culture – one that he feels translates to success on the field. He recently offered his six tips for establishing a culture of leadership.
Run Youth Camps.
Youth camps have many benefits – not the least of which is youth players getting the opportunity to lean techniques from the high school coaching staff. Another benefit is the way it can establish a culture. Brown brings back former players from college to work the camps, and the youth players get to learn how to lead from their childhood idols.
Teach the Program's History. "I always believe the current kids can't understand where they are without learning from the past," Brown said. The coach tries to engage the CBA alumni as much as possible so they can share their experiences with the current players. That includes talking about CBA's mission of giving back in the classroom and community.
Develop Accountability. Brown feels that seniors need to "have some skin in the game," so he gives them opportunities to share their thought process with the coaches. If the seniors feel that they have contributed to the decision-making process, they are more likely to lead younger players down the right path.
Organize Team-Building Activities.
CBA has students from all over upstate New York, so team bonding opportunities can be sporadic in the offseason. Brown will occasionally pull the team together on a weekend for some type of fun competition. "It might not even be football-related," Brown said. "It could be dodgeball – just some game where they're competing against each other and getting to know each other's strengths and weaknesses."
Mandatory Study Halls.
Leadership extends from athletics to academics, at least at CBA. Brown has mandatory in-season study halls with peer tutoring four days per week. Most of the CBA seniors take high-level AP courses, and can help younger players with academic support.
Weight Training Partners.
Very few freshmen enter high school with significant strength training experience, so Brown pairs up seniors with younger players. "The leaders are monitoring, mentoring and motivating throughout the offseason," Brown said. "We'll set up a system and make sure they're all together in the same room."