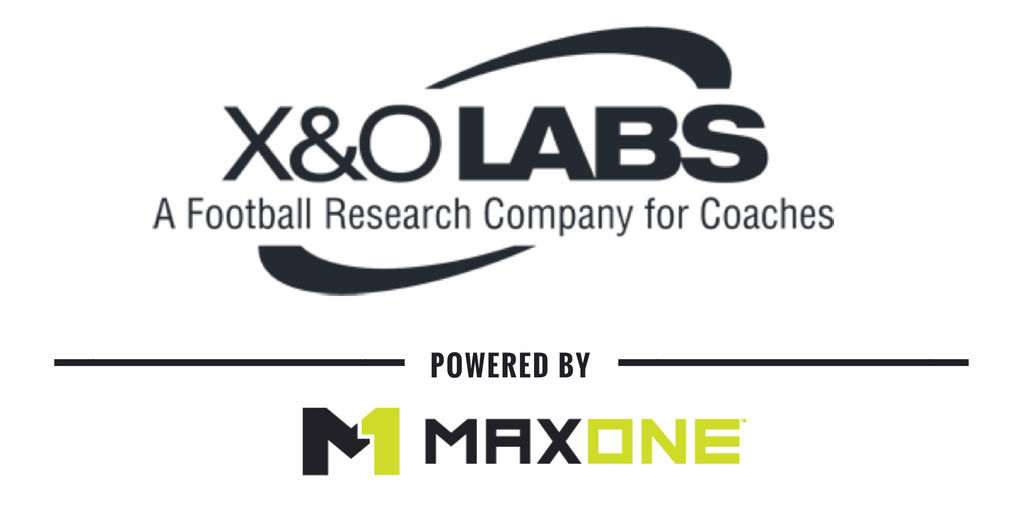 This article was written by XandOlabs.com. XandOlabs.com is a top provider in football content at all levels. They dove into the use of digital DFOs and how athletes respond to them. 
__________________________________________________________________________________________
Athletes and DFOs
Last month, we featured a report on the growing trend of high school and small college programs "hiring" a digital director of football operations (DFO) by using the coaching tool,MaxOne. The primary duties of a DFO is to manage the logistics of a football program's operations–things like scheduling, communication, summer-camp sign ups, texting, emailing, preparing and distributing drills and workouts, gathering materials for coaching meetings, tracking individual players' workouts and progress, manage off-season leaderboards… and the list goes on. MaxOne is a platform that allows you to do all of these things with ONE login.
In this month's report, we confirm the power of using digital DFOs by asking student-athletes from three different programs what they think of MaxOne. Coach McKenna of Brooklyn Tech High School, Coach Stadem of Sioux Falls Washington and Coach Swift of Gold Beach High School have made the switch to MaxOne and have been actively using the app for several months–and they are eager to share their success story.
From these conversations, our conclusion came to be:
"MaxOne turns smartphones into football coaches, with instant questions and answers right at their fingertips."
Turning Players' Smartphones Into Coaches
The reality of how athletes interact with one another and where they spend time taking in information is through their technology and more specifically through their smartphones. The impact technology has in everyday life, but also directly in the coaching and learning experience has seen tremendous growth. It's time to focus on the future. There's no better time than the present to start preparing for future success. We asked athletes how MaxOnespeaks their language in terms of technology? And specifically, how does it engage them with football? The athletes believe that MaxOne translates smartphones into football coaches. One player from Sioux Falls Washington High School stated:
"It made access to my assignments and workouts quicker and easier and let me know exactly what was expected by my coach for every workout."
The ability for Coach Stadem to be a more involved coach has proven to be successful in taking his team into the future of football.
Athlete Engagement: No More Excuses from Players and Parents
Athlete engagement is a critical concept for all football coaches to understand. Serious football coaches know that committed, self-motivated and enthusiastic athletes train smarter, harder and more consistently than those athletes who lack these qualities. After interviewing several athletes using MaxOne, we've found that it has significantly increased engagement within the team dynamic. One of Coach McKenna's athletes we had the chance to interview stated:
"MaxOne reminders make it clear what has to get done and when, it has made it so there is really not an excuse for not knowing.
The ability to set specific reminders with ease has brought Coach McKenna and his athletes onto the same page, allowing them to hold one another accountable.
Communication: "The Vehicle in Which Culture is Built and Maintained"
Communication is getting more and more difficult for coaches. Yet, for any relationship to be successful, good communication is essential. As a high school coach, you need to be an effective communicator to many people, including players, assistant coaches, school personnel, and parents. That's why streamlining communication from one familiar place keeps things simple and efficient for everyone in the team environment. The coaches and athletes utilizing MaxOne feel that communication is the vehicle in which our culture is built and maintained, and we could not agree more. One of Coach Stadem's athletes also agrees as he stated:
"It's beneficial being able to see announcements in real-time and have everybody on the same page, it's always clear exactly what is expected of us."
Want More Information on "Hiring" a Digital DFO in Your Program?
It can be tough to keep up when it comes to technology and innovation in the sport of Football. Coaches and athletes are always looking for an edge, and new technologies are continuously coming into play. It's important for coaches to realize this, and to adapt to an ever-changing environment. It's apparent the impact that MaxOne has had on Coach McKenna, Coach Stadem, and Coach Swift's programs.
We will continue to work with our partners at MaxOne with the goal to create better coaches, and in turn better athletes and more powerful programs. If you'd like more information on usingMaxOne in your program, contact Drew Zwiers at MaxOne. Drew has been helping many high school coaches this off-season, just like the coaches featured in this report, and he'll walk you through how you can use MaxOne in your program, too.