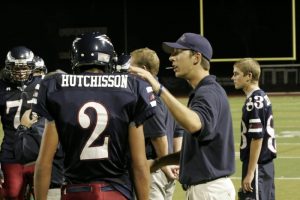 This article was originally written by Chris Fore on coachfore.org Coach Fore also owns Eight Laces Consulting and provides resources for football coaches across the country. In this article, Chris discussed 5 keys to creating a winning culture among a team. 
_______________________________________________________________________________________
A Winning Culture
If there is one goal of every great coach, it is to develop a winning program.  Who wants to lose right?  I tell kids all of the time, we are together so much, we work so hard, let's have fun!  And losing isn't any fun!  So, let's win.
Here are 5 Keys To Creating A Winning Atmosphere
1.  Have Goals To Aim For
If there is one thing winning leaders will tell you it is to have goals that are measurable and attainable.  Something tangible for your team to work towards.  This will help you to "win the day."  These goals can be very short term, like a goal for a certain practice, to longer term, like winning the league championship.  Creating goals, both short and long term, will help your team stay focused on working together to achieve something.  This leads to a winning atmosphere, IF you are accomplishing your goals.  Only you know which goals to establish so that you can win them.
2.  Create A Positive Atmosphere Of Teamwork
Is your locker room and football facility a positive place to be around, or a drag to be around?  Do people like working there?  Or is there a cloud of darkness hanging around?  This atmosphere in your locker room and on your field, in your team film time and one on one in your office needs to be positive, not negative.  This all starts with the head coach.  Obviously, there will be times when it's rough to come to the office, after losses, after key losses, etc.  But overall, your place of work for your team should be positive.  Put up positive sayings, put up positive pictures of your team. Make kids feel welcome by celebrating them.  Get to know the people in your building, the custodians and secretaries so that you can know how they like to be appreciated. Again, this will help to develop a positive atmosphere.
I recently (2 weeks under my belt now) started a job as an Athletic Director at a new school.  One day last week, the Seniors pulled a prank by knocking over EVERY SINGLE white plastic chair which was set up for graduation.  There were 3000 of them!  When I got to work, I checked my mailbox and headed to my office.  You walk through the quad to get there.  I saw the mess, then I saw ALL kinds of people helping to pick them up and reorganize 3000 chairs!  That's a positive atmosphere of teamwork right there!  It was awesome.  Everyone from the janitors to the principal to the secretaries to the teachers were out there working to make things right.  People putting down their own agendas for the better of the team. What can you do to create this type of positive atmosphere at your building?
3.  Make sure to surround yourself with staff who are all on the same page
If you are trying to move the program in one direction, and there are others on your staff who don't want to go there, things won't be positive for very long. So, you either need to realign those guys with your vision, or get rid of them.  If there is one thing I've learned in my short 8 years as a head coach, and four years as an Athletic Director, it is to get rid of those who aren't on the same positive path you are trying to create, and get rid of them quick!  You really can't do this soon enough if you realize they aren't on board.  I would sacrifice knowledge for dedication to your cause. Meaning get rid of the veteran coach who isn't on board, and hire someone with less knowledge who is on board.  This might make all of the difference in the world!
4.  Discipline! Discipline! Discipline!
Winning on the field, in practice and in the office takes a lot of work.  It takes a lot of team work, and a lot of sacrifice.  As the head coach, you must be disciplined in your approach with discipline!  Treat every player the same in regards to the rules of the road!  Don't let your star player get away with forgetting his practice jersey at home, and then make your third string guard do push ups!  This is negative, and your players will have a negative attitude towards it!  Discipline must be firm, fair and consistent.
5. Have fun!
"Football isn't fun anymore."  This was a complaint I heard from some kids and coaches back in my early days of coaching.  At first, I really kicked back against this complaint as the head coach.  Then, I tried to really evaluate what they were saying.  If I want a winning atmosphere, the kids and coaches have got to have fun.  I came to the conclusion that I was "pressing" the team too hard, trying to win to hard.  The fun was gone that season, and I came to agree with the complainers – they were right!  It's got to be a fun place for the kids, or they'll be gone.  How do you make football "fun" when it's so hard, and takes so much work?  Here are some ideas:
– Frosh Talent Show
– Regular pool party to celebrate end of training camp
– Haircut night – everyone shaves their heads at the beginning of the year
– Popsicles after random practices when it's hot
– Celebrate birthdays! Put the kid in the middle of the team as they circle around him.  Give the kid a football, he puts that on his nose, looks up and spins one time for every year.  (Stole this from Coach Krosschell at Linfield when we worked together.)  The rest of the team counts out loud as he turns.  When they reach his age, he kicks the football.  This is a great one!
– Stay light with your approach, joke around with the kids a bit about things happening on campus.
– Develop personal relationships so that you know what kids will think is fun.
– Have donuts at your Saturday morning film session.
– Give out a fun award each year to the "funny guy" that always makes your team laugh.  Create a competition about this during the year, keep bringing it up.